Welcome to T.D.S.
Where We Love your Pet!
We will listen to your pet's needs and wants. Taking the time to listen to what you want your dog or cat to look like is what we want. Terri's Dog Styling has been in business for 40 years. We definetly have the experience to handle almost any situation.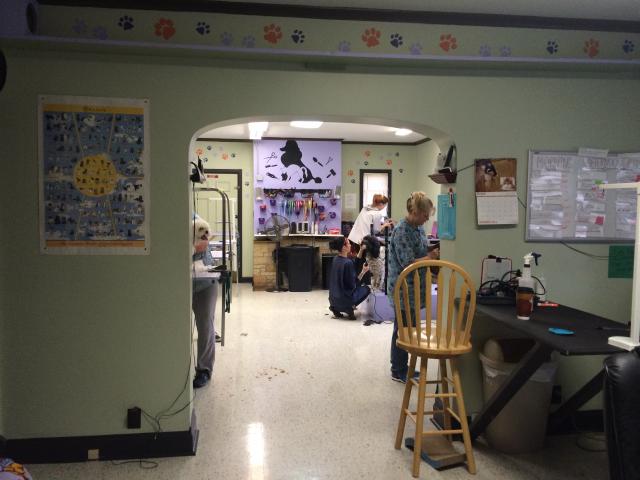 Schooling Information:
Explore wonderful opportunities at Terri's Dog Styling School! A place to help your future career as a professional groomer can get started. Grooming is a fulfilling profession that gives you the ability to set your own hours, control how much you earn, and let you work with the friends you love!
Terri's Dog Styling School is a 15 week instructional course for individuals performing dog and cat grooming. The school operates Tuesday through Saturday from 8:30 a.m. until 3:00 p.m. Our student/instructor ratio is 3:1 . The students work with an instructor or the owner at all times. Instruction includes: 10% of course work and 90% of hands on experience, 15 written tests, two reports, and a final project. We have successfully graduated 175 students so far.
The cost of the program is $3500 which includes a $300 non-refundable registration fee. Tuition can be paid in full or four payments can be made to the school of $833.00 with a 4% interest charge.
We would like you to come check us out. People who are interested can give us a call 563-391-5535 and set up a time to check out the school before signing up, or if you are not familiar with groomimg it is ok to watch as well.
Grooming Information:
Terri's has been in business for over 38 years. We have full-time professional groomers on staff. We will take the time to meet with you to discuss your pets and their specific needs. Any full service grooms are available from scissor cuts to shave downs. Medicated, oatmeal, hypoallergenic, and flea baths always available. You could also walk in an for just a toe-nail clip, face trim, feet trim, or any other grooming needsbetween the hours of 8:00-3:00 Monday through Saturday. Don't forget about your feline friends! Terri's specializes in cat grooming, whether it's just toe-nail clipping, a bath, or a full hair cut. We have a designated room for our kitty cat pals. To ease your mind, heated dryers are never used on any animals. We have groomers that have been working with troublesome dogs and cats for years. Big and small, we groom them all.
BOARDING
Large Runs are indoors
They will not stay in a kennel
Your dog is walked outside at least
three times a day
Fresh water and Fresh food
three times a day, blankets,cots, and food are provided
You can also bring your own food if desired
Pick up or drop off times are 8:00 A.M. or 7:30 p.m. Sundays
8:00-3:00 Monday through Saturday
And 7:30 p.m. every evening
Your dog will need proof of Rabies, Distemper, and Bordetella vacines
Your cat will need proof of Rabies and Distemper
Click any of the links above to learn more about how we can help you.